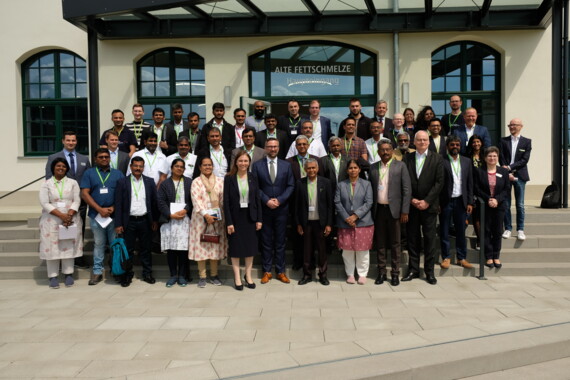 Business Delegation from India visits Saxony
In this article we report about the visit of a business delegation from Tamil Nadu in Saxony in May 2023 and how KNPP-Partner Markus Hoffmann-von Wolffersdorff was involved.
From 10th until 13th May 2023, a business delegation from the South-Indian State Tamil Nadu and the city Coimbatore visited Saxony. The delegation was organized by the German-Indian-Round Table Chapter in Coimbatore, headed by Dr. Chandrasekar. There are long-lasting relations between Saxony and the industrial region of Coimbatore. In the past, the chapters of the German-Indian-Round Table in Saxony and Coimbatore conducted joint business events to support Indo-German-business. The delegation was guided by Counsel General Michaela Küchler from the German Consulate in Chennai and consisting of 30 representatives of companies from various business sectors. Saxony Trade & Invest (Wirtschaftsförderung Sachsen) organized an attractive program for the delegation, such as visits of the Volkswagen factory and the machine manufacturer Mikromat in Dresden and visits of Technical University and Fraunhofer Institute in Chemnitz. A highlight was the visit of the company Senorics in Dresden on 11th May, were Saxon State Minister for Economic Affairs Labor and Transport, Mr. Martin Dulig, was welcoming the delegation and he referred about the importance of the Indian market for companies from Saxony. The greeting from the Minister was followed by speeches from Counsel General Ms. Michaela Küchler and KNPP-Partner Markus Hoffmann-von Wolffersdorff as head of the Saxon chapter of the German-Indian-Round Table. The delegation from India realized during the visit, that Saxony offers plenty of possibilities for Indo-German business, foremost in the sectors of machinery and tools, energy, renewable energies, green hydrogen, railway, automotive and the semiconductor industry.
Markus Hoffmann-von Wolffersdorff

Event on 11th May